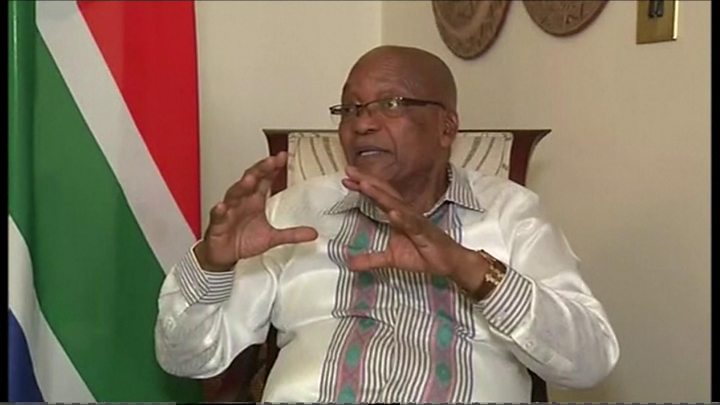 South Africa's scandal-hit President Jacob Zuma says he has done nothing wrong – and sees no reason to stand down immediately.
Mr Zuma spoke after the ruling African National Congress (ANC) announced it would back a vote of no confidence in his leadership on Thursday.
The 75-year-old has come under increasing pressure to resign amid numerous allegations of corruption.
But he said the ANC had failed to explain why he had been recalled.
"It was very unfair to me that this issue is raised," he told the national broadcaster SABC during a lengthy unannounced interview. "Nobody has ever provided the reasons. Nobody is saying what I have done."
He stressed that he was not defying the ANC but he disagreed with its decision to ask him to resign.
Mr Zuma said he had offered to go after June, but objected to the way the issue was currently being handled.
He said he would make a further statement later on Wednesday.
The ANC said it had noted Mr Zuma's televised comments but would await his promised later statement before responding further.
Earlier, ANC chief whip Jackson Mthembu announced that a motion of no-confidence in the president would be heard on Thursday, with Cyril Ramaphosa – who was elected ANC president in December – sworn in as the nation's president as soon as possible after that.
A meeting of the ANC's National Executive Committee had announced its decision to recall Mr Zuma on Tuesday and gave him until the end of Wednesday to resign.
Mr Zuma made no reference to the early morning police raids and arrests carried out at the home of Mr Zuma's close associates, the wealthy, Indian-born Gupta family, on Wednesday.
The Guptas have been accused of using their close friendship with the president to wield enormous political influence. Both parties deny all allegations of wrongdoing.
Why was the Guptas' house raided?
Three people were arrested during the raid, with two more expected to hand themselves in. According to local media, one of those arrested was a Gupta family member.
According to a statement released by the Hawks – the police's elite high-priority crimes unit – the raids were carried out in connection with the Vrede farm investigation.
That investigation relates to the Estina dairy farm near Vrede, in the Free State, a project which was originally meant to help poor black farmers but from which the Gupta family are alleged to have pocketed millions of dollars, allegations they deny.
A tranche of leaked emails released last year alleged that some of the money ended up paying for the family's lavish wedding at Sun City, South Africa's upmarket holiday resort.
In January, the Hawks raided the offices of the Free State premier, Ace Magashule, looking for documents linked to the project. Mr Magashule was elected secretary-general of the ruling African National Congress (ANC) in December.
Who are the Gupta family?
The Gupta family own a range of business interests in South Africa, including computing, mining, air travel, energy, technology and media.
The three brothers – Atul, Rajesh and Ajay – moved to the country in 1993 from India, just as white-minority rule was ending.
They are known friends of President Zuma; his son, daughter and one of his wives worked for the family's firms.
The brothers have been accused of wielding enormous political influence in South Africa, with critics alleging that they have tried to "capture the state" to advance their own business interests.